OESCA National Specialty
FROM YOUR SHOW VIDEOGRAPHER:
LIVE STREAMING VIDEO
ShowDogVideoPros will be LIVE streaming the show, as well as providing RECORDED streaming video class-by-class each day after the judging.  All the info for signing up and buying a ticket is here:  https://showdogvideopros.com/OldEnglishSheepdog/
Irvin B. Krukenkamp, MD
President
ShowDogVideoPros
"The Nation's #1 Dog Show Video Company"  
FROM YOUR SHOW PHOTOGRAPHER
Thank you for having Phyllis Ensley Photography as your show photography team. We are your all-in-one photography company. Our team will be taking action pictures of all exhibitors doing their events as well as the win pictures with the Judge. We will be photographing; herding, agility, obedience, rally, top twenty and all 3 conformation shows. We will have 8 computers for you to view and purchase your pictures, and a great team to help you view them.
We recommend that you come by the booth and put your pictures in to folders daily, this does not require you to purchase anything. It gets extremely busy on the last day, and this will save you time on that day. We deliver prints and digital pictures at the show. We deliver pictures on the last day as long as time allows. We have "at show" packages that will allow you to purchase all your pictures for 1 price, this does not include pictures with the Judge. This package is not available online.
We are open late so that you can enjoy the show during the day and still view your pictures at night.
Pictures will be online in approximately 1-2 weeks after the show. It is much easier to view and purchase at the show.
Phyllis Ensley Photography           770-345-9738                      www.PhyllisEnsleyPhotography.com
The 25th Anniversary of The Top Twenty
THE TOP TWENTY IS CELEBRATING ITS 25TH ANNIVERSARY THIS YEAR BY OFFERING PROFESSIONAL-QUALITY VIDEO RECORDINGS OF THE EVENT! THE COST FOR THE VIDEO IS $40.  Videos will be emailed 5-7 days after the event.
PLEASE CONTACT 

MADELINE ERICKSON

 TO PRE-ORDER YOUR VIDEO OR YOU CAN SIGN UP AT THE EVENT TUESDAY NIGHT. MADELINE CAN ALSO ANSWER ALL YOUR QUESTIONS AND GIVE MORE DETAILS.
Judging Program
See link below:
https://pdf.infodog.com/jps/5877/jpg5877.pdf
Or PDF:  Judging Program 2023
Logowear
See link below.  All items have been added.
https://villagetees.net/product-category/2023-oesca-national-specialty/
VIDEO AND WAGON UPDATE:
THE VIDEO PACKAGE WILL BE DRAWN WEDNESDAY NIGHT, SEPTEMBER 27.
THE WAGON HAS BEEN EXTENDED!

IT WILL BE ON DISPLAY AT THE NATIONAL SPECIALTY IN OHIO. ADDITIONAL TICKETS WILL BE SOLD UP UNTIL THE DRAWING WHICH WILL TAKE PLACE AT THE AWARDS BANQUET FRIDAY NIGHT, OCTOBER 6TH.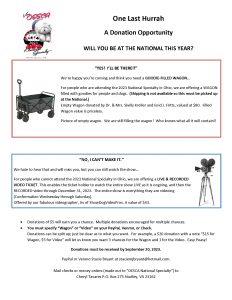 Information can also be found on the new 2023 OESCA National Specialty Facebook page:
https://www.facebook.com/groups/745069307151199/